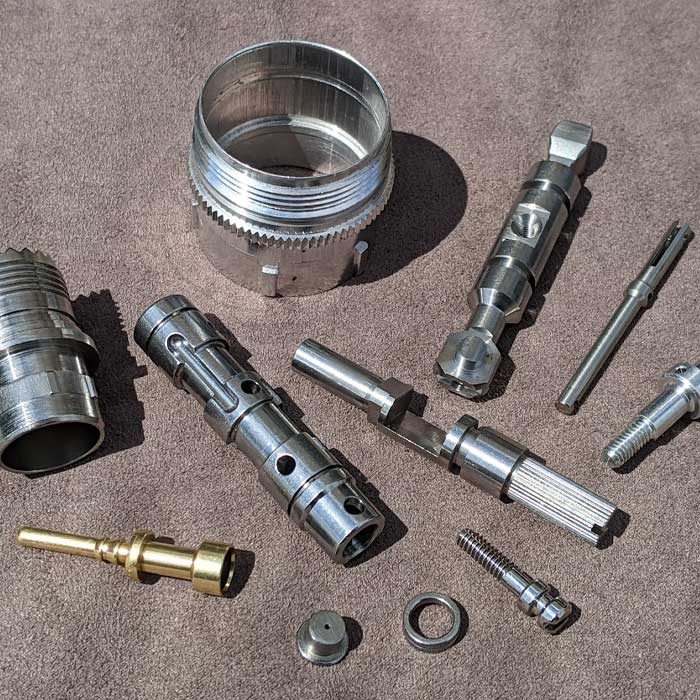 Components for the aerospace industry must be able to perform under unique stresses, environmental conditions and mechanical loads. They consistently require extremely tight tolerances as well as top level precision. Swiss-style machining can reliably fulfill those needs.
Merit is skilled at meeting the stringent demands of this industry and the requirement that parts hold up under critical conditions. We have experience machining a wide variety of premium parts for aerospace companies including: actuator components, pressnuts, poppet valves, housings, pins, throttle shafts, control systems fasteners and screws.
Large scale, heavy equipment utilized in agriculture might seem a world away from small, precision parts manufacturing. However, today's agricultural equipment is built with system upgrades that offer valuable options: improved harvesting times, better automation and advanced on-board technology. Swiss-style components often play an important role in operating those systems.
Merit has supplied parts to leading manufacturers who are outfitting farmers with technologically advanced devices and equipment to make their jobs easier and more efficient. We know this essential industry requires parts that are both precise and dependable, a combination we confidently provide.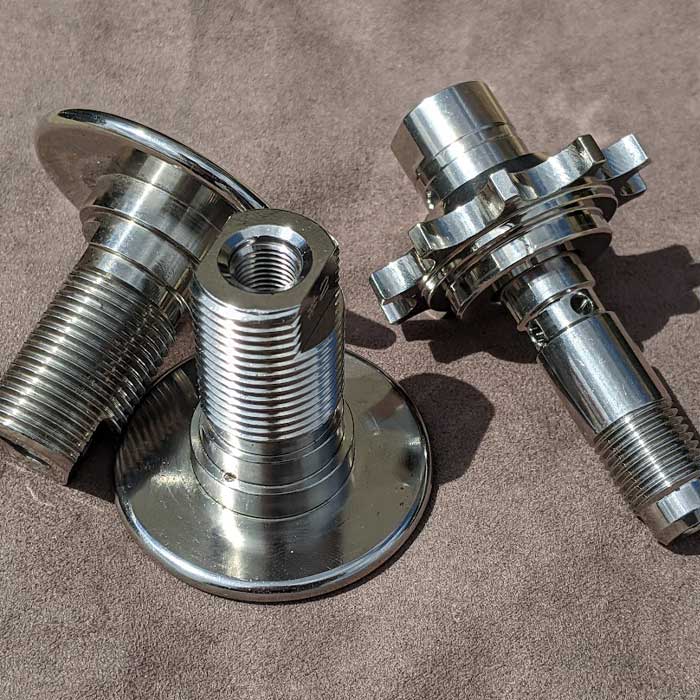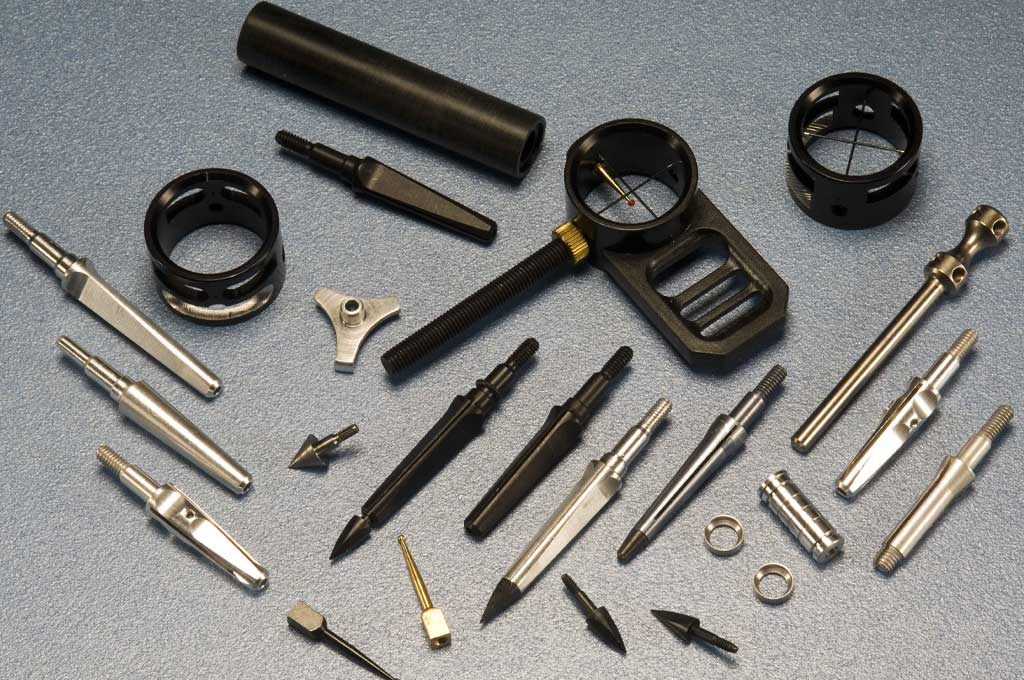 The ancient art of archery is still popular today. However, the traditional bow and arrow has undergone dramatic transformation. Modern archery equipment utilizes numerous complex components requiring precision and durability.
An expert in machining these components, Merit has produced an array of parts found throughout today's high tech archery industry. Among these are: broadheads, sight components, field pins, pivot bolts, ferrules, spinning inserts, and arrow rest parts.
Recognizing that a customer's needs can be fluid, Merit offers flexibility and can even help facilitate issues like design changes. In one case, a longtime archery customer was interested in developing new products. We were happy to assist. That meant creating multiple versions of a part for them to test before actually putting it into full production.
Electrical connectors, necessary for creating an electrical circuit, are ubiquitous throughout industries utilizing electronic equipment. A wide variety of small, tight-tolerance parts go into constructing the multitude of electrical connectors on the market today.
For decades Merit has expertly created these precision components for various connectors, such as: coaxial, barrel, tip, DC, USB, XLR, audio, Molex, and pin header. In addition to low voltage connector components, Merit is also proficient at producing high power connector parts.
Our aim is to exceed expectations whenever possible for customers. Sometimes that means finding solutions where other companies could not. For example, attempts to create a beryllium copper connector with a 0.010 wall thickness and extremely complex machining features met with failure at numerous other companies. Perhaps because the delicacy of the work was akin to cutting intricate designs into an eggshell. We succeeded and a decade later are still producing the part.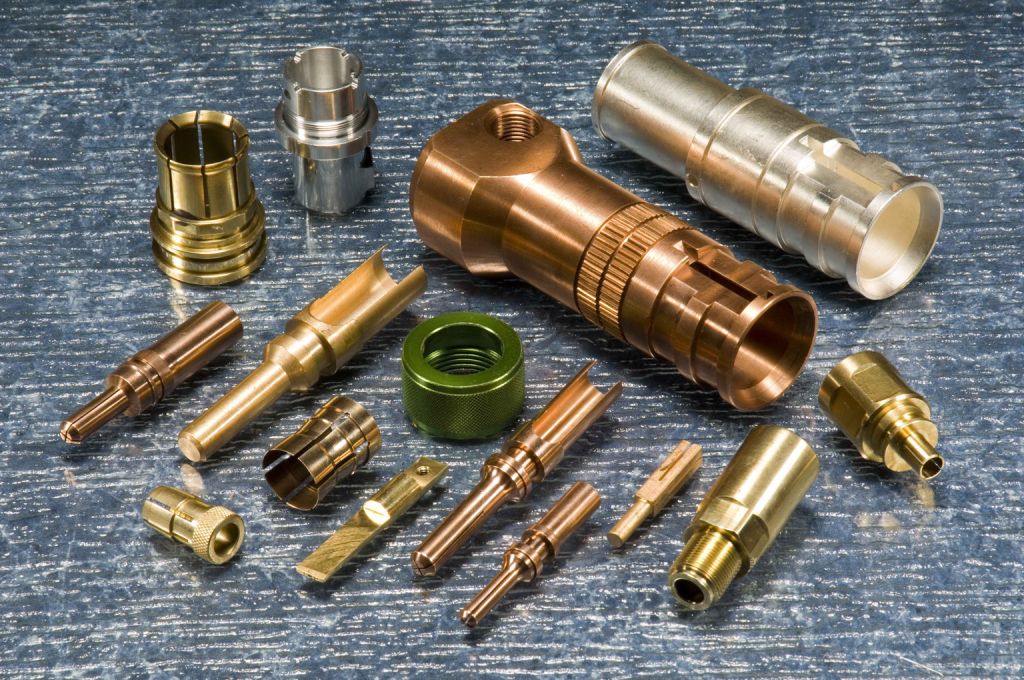 Modern day life is filled with appliances that consumers have come to depend on. Merit has been a steady supplier of precision parts to a variety of manufacturers in this industry. Our exemplary components can be found in items ranging from cookware to washers and dryers to smoke alarms.
When a manufacturer of smoke detectors came to Merit needing a tiny part with a mirror interior finish, we knew it would require diamond tooling. However, diamond tooling that claimed to achieve the necessary 2 micro finish wasn't good enough. Our shop superintendent located a European company who guaranteed the ultra smooth critical surface finish. We were then able to provide consistently accurate and reliable parts for our customer's life-saving product.
Swiss-style components are a natural fit in the electronics industry, especially in areas where the demand for small, precision parts keeps increasing as the size of electronic devices keeps decreasing.
Merit has been a long term supplier of superior quality components to this industry, including: pins, needles, plungers, connectors, solder cups, standoffs and spacers.
We also work with customers to help solve problems. One customer told us about a stainless steel part that in the past had always been stamped. However, their current need didn't meet the stamping company's required minimum order. They asked if it could be machined instead. Despite a complex geometry and 0.005 thin wall our highly skilled team met the challenge and produced the part in an entirely new way.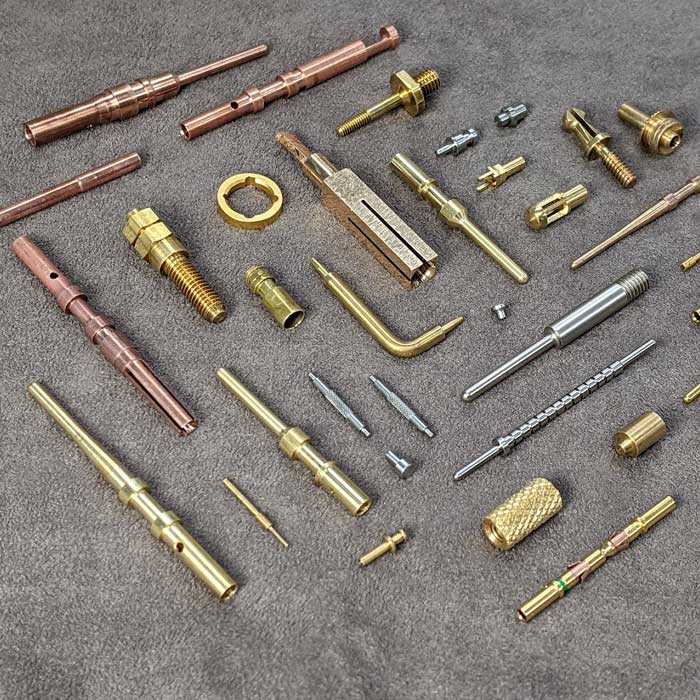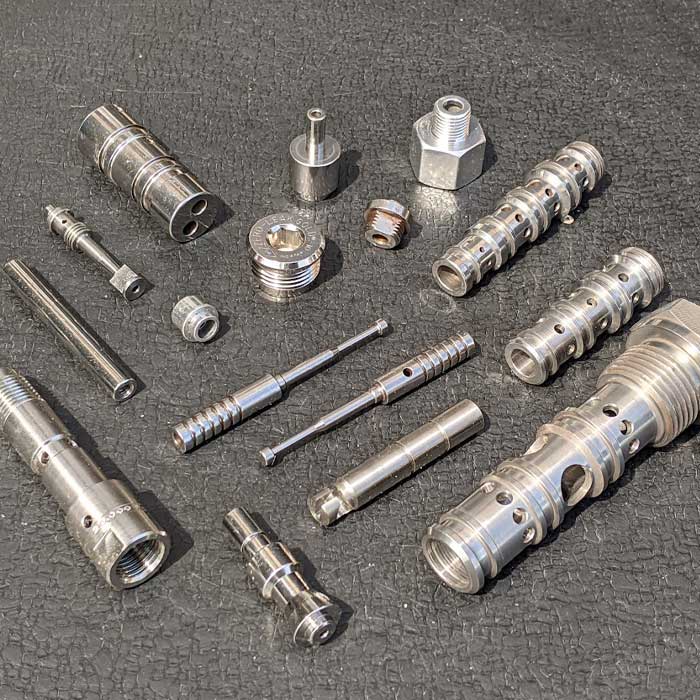 Hydraulic and pneumatic systems help power the world we live in. Whether in construction equipment, car brakes, dentist drills or airplane flaps, this technology is part of daily life. Integral to the operation of these systems are numerous complex, precision components. Merit has an extensive history of producing a variety of these crucial parts, like: fittings, adapters, poppet valves, manifolds, spools, valve bodies, and valve stems.
Our expertise encompasses working with specialized materials. This applies to pneumatic parts requiring material capable of withstanding pressurized environments and wide-ranging temperatures.
Similar to the watchmaking industry, for which Swiss-style precision machining was developed, the lock industry requires tiny, intricate parts of high precision and dependability. Merit has ample experience making components for this industry such as: threaded inserts, hinge and tumbler pins, locking bolts, collars, nuts, and other custom lock components.
In striving to supply customers with innovative solutions, Merit also pioneered a system which not only doubled the production output of a tumbler pin but delivered it into a plastic tube in proper sequence. Consequently, the customer no longer had to dump and sort the parts. Instead they merely inserted the plastic tube in the assembly process where it dispensed the parts in correct order. This type of system was ultimately adopted by other companies in the industry.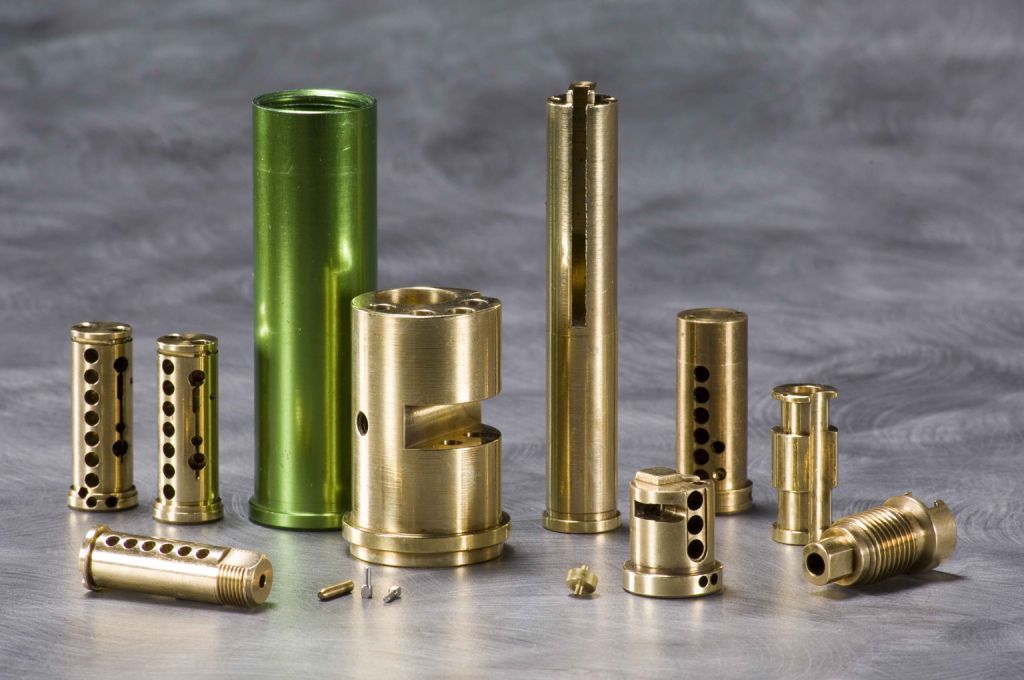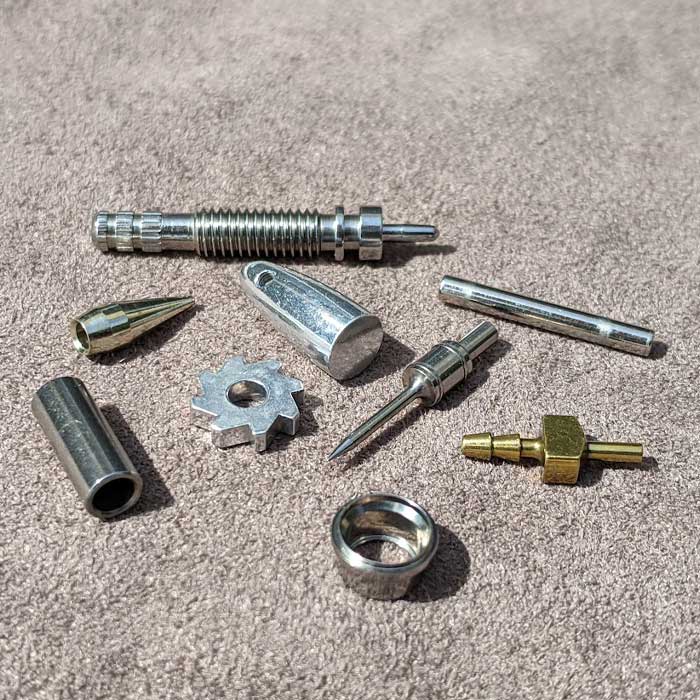 Medicine continues to evolve with increasingly advanced tools, equipment and devices. Those innovations often require small, intricate components. Swiss-style machining readily meets those needs. It has the unique ability to create parts of high complexity and accuracy demanded in products ranging from catheters and bone screws to scanners and monitors.
Merit has a lengthy relationship with the medical and dental industry. We are well versed in the diverse materials needed to make these crucial parts. Additionally, our rigorous Quality Management System enables us to provide consistently reliable, precision parts used in an array of products aimed at enhancing patients' lives and longevity.
String, brass and percussion instruments all contain components ideally suited for Swiss-style machining. Premium quality parts not only contribute to the sound of an instrument but its lifespan. Supplying parts of that caliber to musical instrument manufacturers is something Merit has excelled at for over 50 years. Our parts can be found in world-class harps, drum sets and trumpets.
We make on-time delivery a priority. That extends to our shipping practices. As with one of our local customers in this industry, we will personally deliver parts, when applicable, to ensure due dates are met.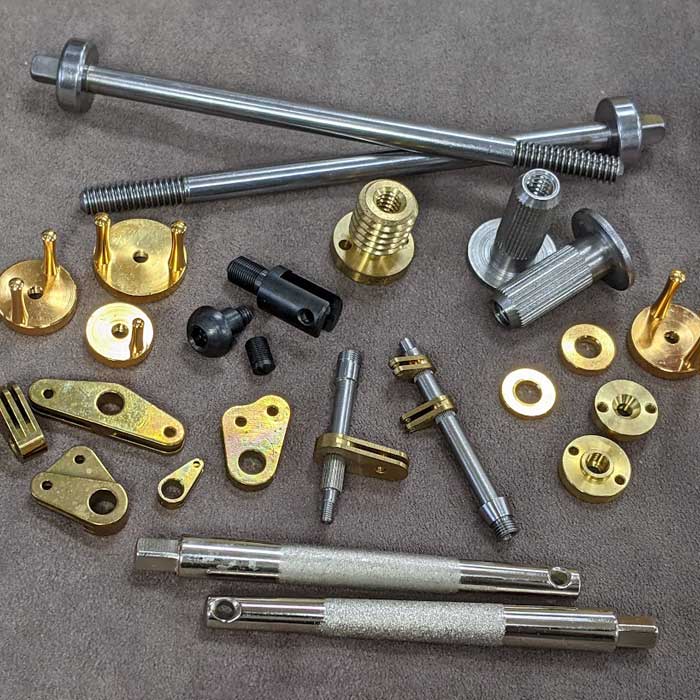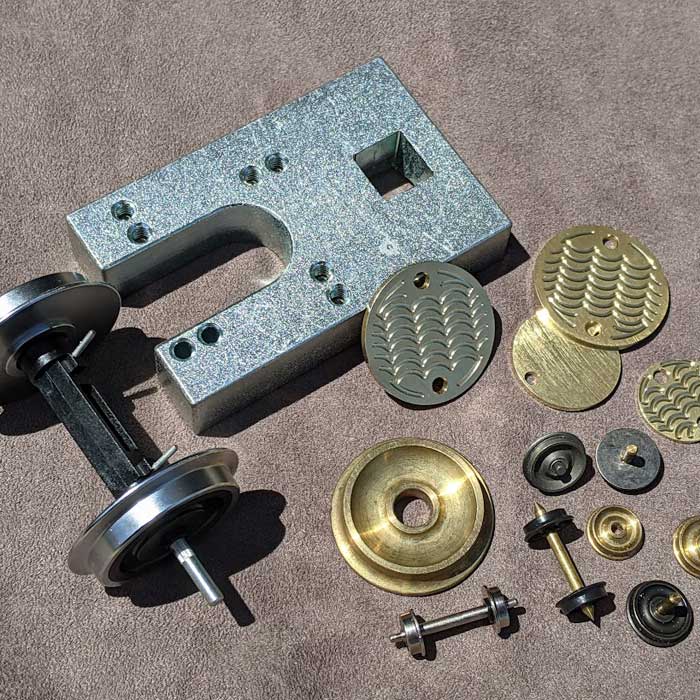 Since the early 1930's, Merit has played a steady role in the recreation industry. As a leading screw machine manufacturer in Chicago, the pinball capital of the world, Merit was a major supplier of parts for pinball machines, including to D. Gottlieb & Company, one of the originators of the game.
Over the years, Merit's contributions to this industry can be found in numerous premium components made for: jukeboxes, drive-in theater speakers, slot machines and model trains. We have also provided a variety of high quality parts for bikes, boats and fishing lures.
Water is our planet's most vital resource. Water treatment processes are integral to daily life. This is evident in residential usage, wastewater treatment, industrial water systems and irrigation. Dating back decades, Merit has been a leader in supplying supreme quality parts related to water treatment.
Among the large list of parts we produce for this industry are the following: housings, pistons, rods, stand-offs, piston spools, posts, syphon jets, manual relief screws, manual relief plugs, poppet valves, vapor tube adapters and shut-off disks.